Bookmarking & Indexing
All versions of 1040SCAN automatically bookmark and organize workpapers into a standardized index tree. Scan-and-organize technology saves hours on binder assembly so your preparers can get straight to work.
How it works
Just click Create Binder in TaxCaddy once a client has delivered enough documents for your staff to begin preparation. Our cloud-based automated workpaper software will return a fully bookmarked and indexed binder within the hour. You can submit additional workpapers to the same binder at any time.
Not using TaxCaddy? Just upload your documents. Everything else works the same way.
Why 1040SCAN is the #1 automated workpaper software on the market
Accepts all file types: Some solutions only accept PDFs or forcibly convert your workpapers to PDF. 1040SCAN preserves workpaper file formats, including PDF, Excel, Word, TIFF, and email.
Sorts workpapers, not files: 1040SCAN sorts every workpaper into the tax workpaper index individually, even when there are multiple workpapers per file. No need to split PDFs or save Excel sheets separately.
Doesn't require dividers: A widely used competitor requires users to generate and insert a barcoded cover sheet for every document type. 1040SCAN recognizes tax documents automatically.
Makes non-standard documents easy to sort: Automated workpaper software only works on standard documents. 1040SCAN places non-standard documents in a visual thumbnail panel. Users can easily click-and-drag documents into the index tree.
Includes a verification tool: 1040SCAN includes our user-friendly Review Wizard, which walks users through verification.
Enables remote or hybrid work: Once 1040SCAN has assembled a binder, you can flex it to any user, no matter where they're located. Perfect for remote, hybrid, or multi-office workflows.
Recognizes the most documents: Even with dividers, no other solution recognizes Federal Organizer Pages, Grantor Letters, or State K-1s. 1040SCAN recognizes 4–7x times as many documents as competitors. See a full comparison→
Integrates with preparation software: 1040SCAN sorts workpapers into SPbinder, our purpose-built tax workpaper software. SPbinder includes a workpaper management system, preparation tools, and review tools in one. It is included with every purchase of 1040SCAN.
SPbinder's superior tax workpaper index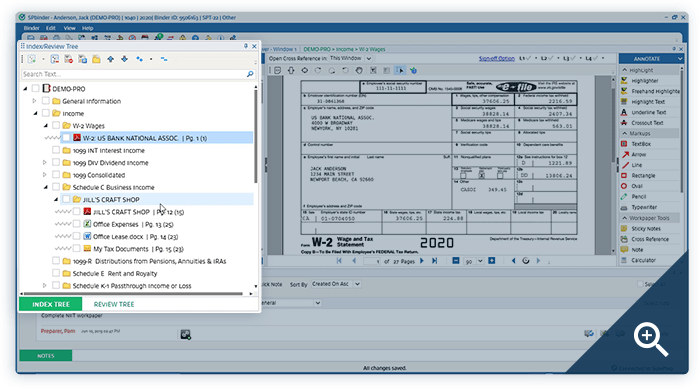 The SPbinder tax workpaper index resembles a traditional folder tree for easy navigation. It groups associated documents into folders and sub-folders that follow the flow of a 1040 return. From the index tree, users can:
Open workpapers in the view panel.
Find any document with the search bar.
Click-and-drag to reorder.
Perform bulk actions.
Edit the names of workpapers.
Easily disassociate or soft delete.
Create shortcuts.
See sign-off levels at a glance.
Other scan-and-organize solutions export workpapers as one long PDF or offer a less sophisticated solution at extra cost. SPbinder is one of the top reasons firms choose 1040SCAN over other automated workpaper software.