1040SCAN PRO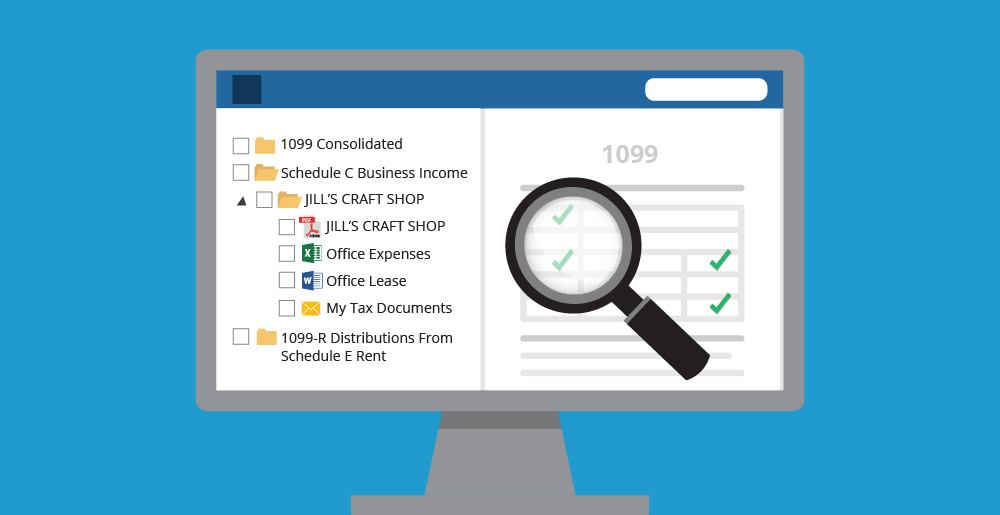 1040SCAN PRO is a scan-and-populate solution that performs two key functions:
Reduces data entry by extracting data from tax documents with OCR and exporting it to your tax software.

Automates workpaper preparation by bookmarking and organizing source documents into a standardized workpaper index.
1040SCAN PRO is compatible with CCH Axcess™ Tax, GoSystem Tax RS, Lacerte, and UltraTax CS. If you don't use any of these softwares, consider 1040SCAN ORGANIZE.
1040SCAN PRO's Optical Character Recognition (OCR) reduces data entry
Optical Character Recognition (OCR) is an established technology that extracts data from scanned documents. 1040SCAN PRO is a powerful OCR solution designed specifically for 1040 returns. It integrates directly with your tax software for line-by-line export. This saves your preparers hours of manual data entry and frees them to focus on value-added work.
Because 1040SCAN PRO is an encrypted cloud-based service, it is fully compatible with a remote or multi-office workflow. Your staff upload client documents or submit them directly from TaxCaddy. Within the hour, 1040SCAN PRO returns extracted data, which your staff exports to tax software after verification. Verification wizards come included to streamline the process.
Extracts data from 4–7x as many documents
Scan-and-organize software can't extract data from workpapers unless it recognizes them. 1040SCAN recognizes 4–7x as many documents as the nearest competitor!
Document recognition relies on back-end templates. This is true for all 1040 OCR software on the market. Because each document requires a template, recognition is inherently finite. SurePrep is working to change this by training AI to read documents organically.
Auto-Verification covers 65% of standard documents!
You've probably heard that all data extracted by OCR requires human verification. 1040SCAN is the exception. SurePrep uses patented, AI-powered technology to auto-verify 65% of standard documents. Your staff only need to verify the remaining one third—or outsource the verification to SurePrep with 1040SCANverify. No other vendor offers this amazing time-saving feature.
Advanced workpaper organization
In addition to OCR scanning, 1040SCAN PRO automatically sorts and organizes workpapers into an index tree. Automating workpaper organization saves hours your preparers would otherwise spend on assembling a binder.
The index tree is housed in SPbinder: a bespoke workpaper management system that comes included with every unit of 1040SCAN. Unlike competitors, SPbinder recognizes all workpaper file types. Sorting and annotation tools work the same for PDF, Excel, Word, TIFF, and emails.
Is 1040SCAN PRO right for your firm?
1040SCAN PRO is perfect for firms that want to reduce time spent on data entry and binder assembly. It is our most widely used product and trusted by thousands of tax professionals. Firms see the greatest time savings when they use 1040SCAN PRO in conjunction with TaxCaddy.
The only 1040SCAN product that offers more functionality is 1040SCANverify. Like 1040SCAN PRO, 1040SCANverify sorts workpapers and extracts data, but also includes an OCR verification service.