Multi-Level Sign-Offs
Who made what changes and when? SPbinder's Multi-Level Sign-Offs create a clean record of each workpaper's history, prevent labor redundancy, and ensure that each workpaper passes through designated levels of preparation and review in accordance with your firm's internal policies.
Sign-off levels (L1, L2, L3, L4)
Each sign-off level represents one role that must sign off on each workpaper. Your firm can designate up to four sign-off levels.
EXAMPLE #1
Level 1: Preparer
Level 2: Manager
Level 3: Partner
Level 4: [Not Enabled]
EXAMPLE #2
Level 1: Preparer
Level 2: Reviewer
Level 3: Manager
Level 4: Partner
On the back end, each sign-off level is associated with a different user role. Each user role has its own set of fully customizable permissions. These should be set by your SPbinder admin in accordance with your firm's personnel structure. For example, preparers might belong to a user group with more limited permissions, while partners might belong to a user group with very liberal permissions. These back-end settings determine which sign-off levels different users can perform.
Users can perform their own sign-off level and any level below them. For example, if a user is authorized to use sign-off level 4 (L4), they may also perform L3, L2, and L1 sign-offs. This prevents unnecessary back-and-forth. Imagine that a reviewer receives a binder and realizes the preparer before them forgot to sign off on a single workpaper. Rather than passing the entire binder back to the preparer, the reviewer can simply complete the sign-off for that document.
Using sign-offs
The Multi-Level Sign-Off toolbar is permanently affixed to the upper right of the Document Viewer.
Users can sign off on an open workpaper by selecting their sign-off level directly in the toolbar. Users can also perform sign-offs in the Index Tree or Review Tree. With the latter method, users can select and sign multiple workpapers at one time.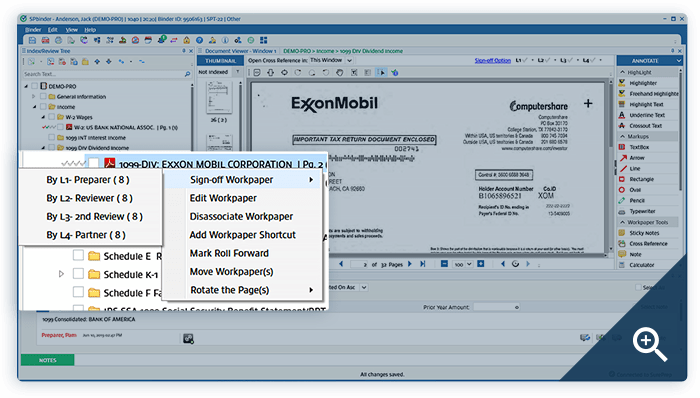 Users can see the sign-off status of any workpaper at a glance by referring to the Multi-Level Sign-Off toolbar, the Thumbnail panel, or the sign-off checkmarks that appear next to each document in the Index Tree.
Sign-off logs
Select the drop-down arrow next to any sign-off level in the toolbar to see a complete log of all sign-offs at that level. When a user performs a sign-off, their name, the date, and the time are automatically stamped in the appropriate log. All Annotations are automatically stamped with the same information. Between the Annotation stamps and the sign-off log, it's easy to recreate a complete picture of who did what, when.
Change alert icons
If a user performs a sign-off that is lower than the current sign-off level on that workpaper, SPbinder will automatically reset the workpaper's sign-off requirements to the appropriate level.
For example: A workpaper has already received sign-offs on levels 1, 2, 3, and 4. A user then performs a level 2 sign-off. The workpaper now requires another sign-off from Levels 3 and 4.
If a user has performed a sign-off and that sign-off later resets, a caution alert icon (
) will appear next to all affected workpapers in the Index Tree and Review Tree, as well as in the sign-off toolbar. No matter how long it's been since a reviewer last opened a particular binder, they can easily differentiate between items that are finished and items that require another look. This allows reviewers to ration their attention, avoid repeating work, and complete review faster.
Sign-Off toolbar and Index Tree:
Sign-offs in review
In the Review Tree, unreviewed documents are grouped by sign-off status. This grouping allows reviewers to quickly identify workpapers that require a sign-off at their level, as well as any workpapers that may have been skipped in lower sign-off levels. Read more about Unreviewed Documents→
Leadsheets use change alert icons similar to those generated by the sign-off process. Read more about Leadsheets next→