SurePrep solutions – SPbinder
How SPbinder integrates
Create and update binders from TaxCaddy
Begin the binder creation process where the tax documents are: your client's TaxCaddy profile. Once a taxpayer has submitted a sufficient number of documents to begin the tax return, click Create Binder on your client's TaxCaddy profile. A binder creation dialogue will present you with settings and options before you submit.
Once the binder has been created, the Create Binder button will be replaced by Add Documents and Open Binder. These options allow you to add documents to your client's binder throughout the season, or launch the binder from your client's profile.
OCR data flows into forms
The binder creation dialogue will prompt you to select your 1040SCAN service level. If you use 1040SCAN PRO or 1040SCANverify, your client's documents will upload to the cloud for Optical Character Recognition (OCR) processing.
If you use 1040SCAN PRO, you will receive a notification when the OCR data is ready for verification. Our user-friendly Review Wizard will walk you through the data verification steps.
If you use 1040SCANverify, SurePrep professionals will verify the OCR data. You will receive a notification when the fully verified data is ready for use.
After verification, the OCR data from your client's tax documents flows into the digital binder. When you launch SPbinder, you will find this information in the Forms section.
Forms allow you to review, edit, and add data from source documents. Every Form is connected to a workpaper and the fields on the Form correspond to the fields on the workpaper. You can click any workpaper field to locate the corresponding Form field, and vice versa. The data you see in Forms is the data that will export to your tax software.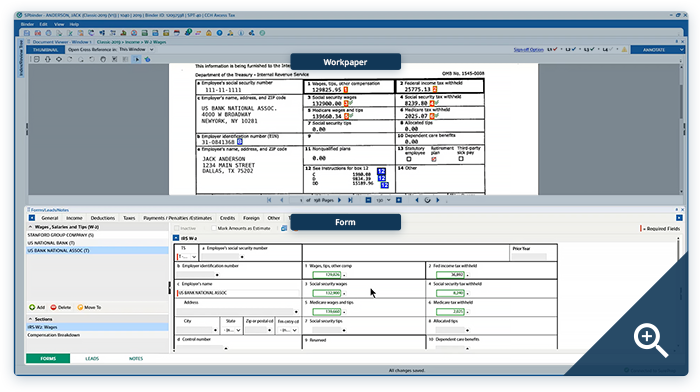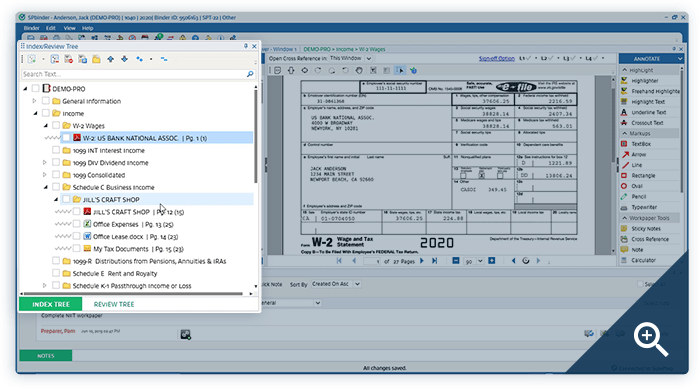 From the Index Tree, simply click on a workpaper to open it in the Document Viewer and begin preparation.
In addition to the organizational features of a familiar folder tree, the Index Tree allows users to perform mass actions, filter workpapers with an instant search, and perform quick actions from a right-click menu. If there are items on your client's DRL that have not yet populated the binder, a blue proforma'd placeholder will take its place in the Index Tree.