E-Signatures
In addition to requesting documents, you can add signatures or review requests to your client's DRL.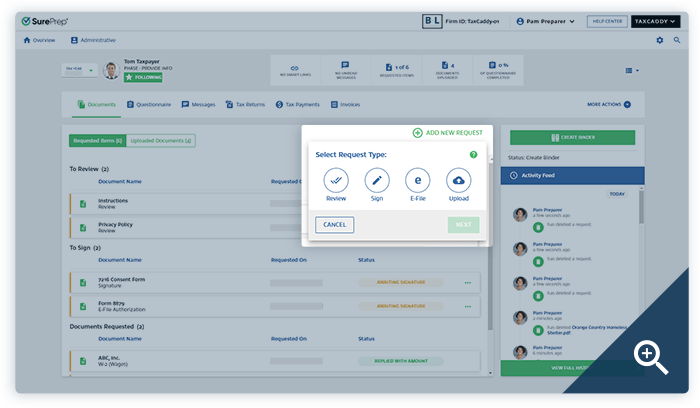 E-Signatures
TaxCaddy makes it easy to obtain a valid e-signature for any document, including engagement letters and statements of work.
For documents that do not require KBA, your client can render a valid e-signature by typing in their name.
Select the Sign option to request a standard e-signature.
Knowledge-Based Authentication (KBA)
The IRS requires Knowledge-Based Authentication (KBA) to sign Form 8879, i.e. the e-file authorization.
There are two types of KBA: static and dynamic. TaxCaddy uses dynamic KBA.
Static KBA verifies knowledge the user shared at the time they created their account. This is more commonly known as "security questions." For example, "What is your mother's maiden name?"
Dynamic KBA—the type required by the IRS—is more secure. To initiate a KBA session, your client provides personal details like full name, birthdate, and address, which are checked against public records. A dynamic list of questions are then generated based on available information about your client. These questions can include details from various data sources, such as the user's credit report, their transaction history with TaxCaddy, or public records. For example, "What is the make and model of your car?"
Your client has a limited amount of time to answer these questions correctly, which prevents impersonators from initiating a KBA session and attempting to research the answers.
Select the E-File option to request a dynamic KBA e-signature.
Spouse signatures
You can specify whether a spouse's signature is required on any given document. This feature works the same for both standard and KBA e-signatures.
The taxpayer's spouse is not required to create their own TaxCaddy account to render a signature. While the taxpayer's spouse has the option to e-sign from their own TaxCaddy account, they can also choose to e-sign directly on the taxpayer's device.
If your client indicates that they do not have a spouse, they will not be prompted for any further spousal signatures.
Document review
Sometimes a document does not require a formal signature—only review and approval. When you mark a document for review, it will appear under To Review on your client's DRL. After your client has reviewed the document, they simply click or tap Mark Reviewed to complete the task and update their DRL.
Select the Review option to request a document review.